Piccola rassegna stampa sul fallimento dell'I.P.O. di BATS:
Dal
Wall Street Journal
:
Trading Firm IPO Fizzles in Seconds
Apple Shares Also Affected as Glitch Mars Debut of BATS Global Markets
La S.E.C. ha detto di essere intenzionata a capire cosa è successo:

The Securities and Exchange Commission said Friday it was looking at the BATS situation. "SEC staff has been and will continue to be in discussions with BATS to determine the cause and extent of the incident and steps BATS is taking to remedy the situation," an SEC spokesman said.

The day's events may rekindle questions about the reliability of the stock-market's plumbing, questions that came into sharp focus almost two years ago when the broader market plunged hundreds of points within minutes in what came to be known as the "flash crash."

"This shows the flaws in the current market structure," said Tim Quast, managing director of ModernIR LLC, a Denver company that advises public companies on market-structure issues. It demonstrates how fragile the market structure is" and highlights how vulnerable companies and investors are to computer glitches.


BATS Initial Public Tease: Nine Seconds of Free Fall
For BATS Global Markets, it took all of nine seconds for its IPO to crash.
The exchange operator stepped into the public's view on Friday, March 23 at 11:14 and 18 seconds a.m. ET.
According to FactSet Research, the stock was trading at $15.25 with 1.2 million shares moving hands on the BATS exchange. That was down 4.7% from its pricing of $16, which had already been at the low end of its expected range of $16 to $18.
Within nanoseconds, the picture actually looked brighter.
Five trades, for a total of 800 shares, moved at $15.75 each, all of them on the Nasdaq exchange, according to the FactSet data.
Then the stock started dropping, falling to $14 then to $13 before the bottom dropped out. The stock went quickly to $10.23, to $8.03 to $5.79 to $4.17 to $3.01 all before that first second of life was over.
In that time the difference between offers to buy and offers to sell spread from being a relatively close 50-cent spread to a difference of $11.23 as holders continued to look to sell at $14.90 a share.
The second second of life was not much better: $2.17 quickly became $1.15 which fell to 76 cents before plunging all the way down to 0.0002 cents. In total, 444 trades, all of 100 shares a piece, were made in that one second, everyone on the Nasdaq.
The sellers started dropping their asking prices though nowhere near as quick as the trading prices fell. The asks fell from above $14 to $11.50 to $7.64 to $4.31 to $2.05 before capitulating and falling below a dollar.
After that fall there appeared a slight breath of comparatively rationale thought: the next trade was made at 11:14 a.m. and 21 seconds for 3 cents a share.
Shares eventually climbed back to 4 cents at 11:14 a.m. and 27 seconds, the price that first appeared on some screens this morning and the last trade made.
At 11:14 a.m. and 33 seconds the stock was first listed as halted, back at $15.25.
But all that history will now be wiped out. BATS said the opening auction will be cancelled. On FactSet the company is back to $16.
Then the IPO was officially withdrawn.
It is unclear as of this time if mulligans do exist in IPOs, but BATS is going to try.
Nanex ha dedicato un post
all'analisi dell'I.P.O. di BATS, e alla simultanea "transazione erronea" su Apple:
Nanex ~ The BATS IPO and halt in AAPL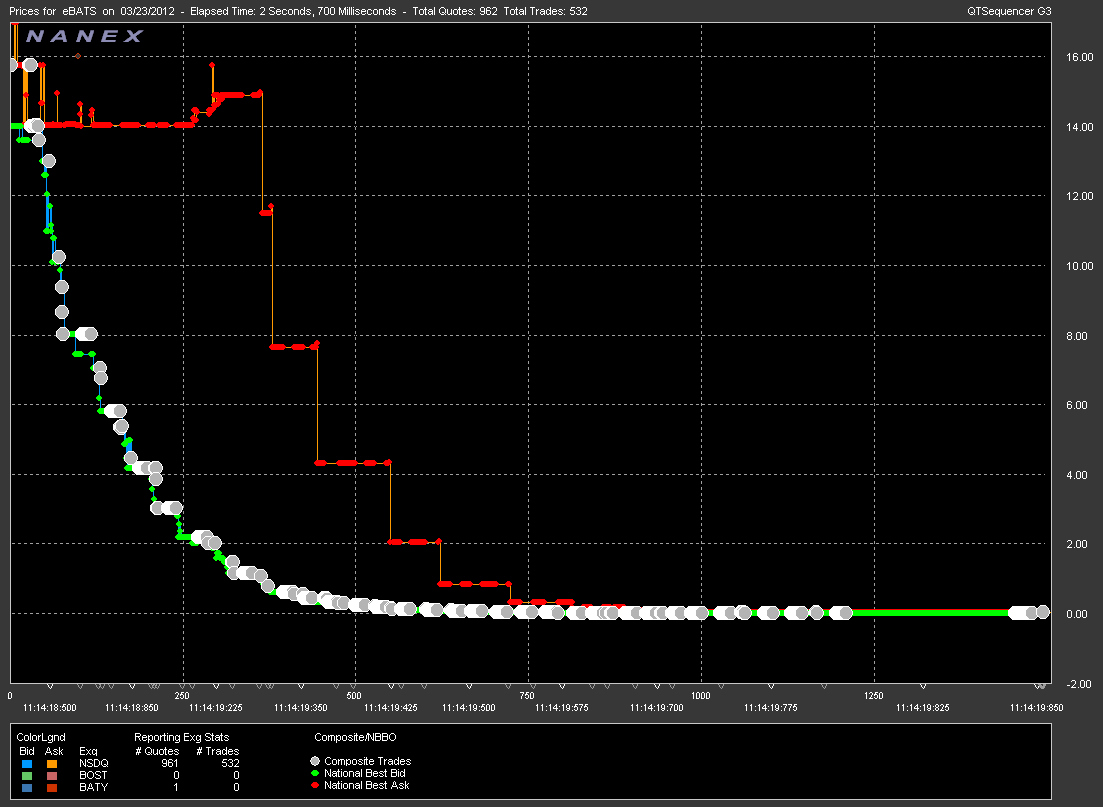 The March 23, 2012 IPO of BATS was brief. The stock began trading at 11:14:18.475 with an initial price of $15.25. Within 900 milliseconds from opening the stock price had fallen to $0.2848. Within 1.5 seconds the price bottomed at $0.0002. 567 trades were executed before the stock was halted (532 are shown below).

Another curiosity: we found that starting around 10:45 and ending around 11:20, quotes from BATS stopped updating in all NYSE and Nasdaq symbols within a specific alphabetical range: between "A " and "BECN ". The symbol BATS falls into this range.